The Southern states – 6,500 miles biked
The Southern states have been a curious bunch; each state being proud of its heritage, their recipes of fried chicken or BBQ passed down through generations, and their own compressed form of language where multiple words were combined to create one fluid word. We're still not fluent, but we're learning.
The ride here has been incredibly hot, but thanks to our van Deena, we don't have to pull our trailers anymore. Without the weight, we average around 17-18 mph, which thankfully makes the heat almost unnoticeable until we come to a stop. Then the humidity sinks in, or at least settles on the top layer of our skin. Despite the heat, we've done our best to take in the South as much as we could.
Little Rock, Arkansas:
We went to the Little Rock Central High School Memorial site. This place is not only a National Park, but is also still a functioning high school.


Throughout the history of the United States, ordinary people have brought about change. Individuals like the Little Rock Nine relied on the promises of the 14th Amendment to the Constitution in seeking equal education. They and others have taken the action to force the country to live up to its founding principle that "all men are created equal." (LRCHSM)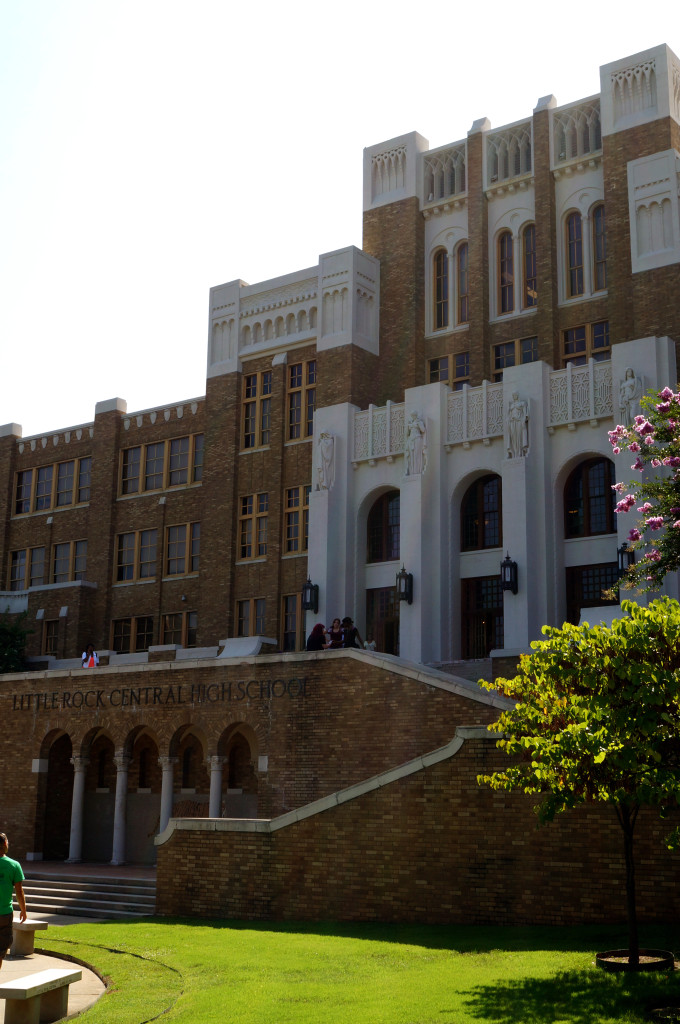 It was an inspiring reminder of the struggles that people once went through to receive a public education here in America. Our intention for biking around the country is to raise awareness and funds to build a high school in Honduras; this park was an incredible stop.
Memphis, Tennessee:
We stopped made a visit to Elvis's house, Graceland. We skipped the tour. Instead, we checked out his planes and made a stop at one of the gift shops that was filled with hip-shaking Elvis clocks, Elvis Snuggies, and anything else to completely outfit your life with the king of rock-n-roll. A visit to Beale Street was essential according to the locals. Beale Street is closed off to traffic at night and becomes filled with people. We listened to the live music and watched the flippers do their flips down a crowed brick street.
Here we stayed with an incredible couple that lived right on the ocean. We learned the true meaning of Southern hospitality in Mobile. We ate until we couldn't force another bite of coconut cream pie into our bellies, and then tested our balance on boogie board in the waves of the Gulf. The three of us also had the chance to speak in front of a large congregation at church and raised over $3,000 here. It was a fantastic weekend.
We're over the halfway point for states, and as we reach the East coast, that number will go even faster. We really enjoy the style, and entertainment of the South. We're not done here yet, we still have to get some BBQ. Once we get our fill, we will look forward to the rich history of the East coast.